Choose from a variety of assorted straps and bracelets for your wrist watch. We have many different styles, colors, and textures to choose from. We offer leather, nylon, and rubber NATO straps, metal bracelets, and custom straps to choose from. There will be occasions where we may not have a strap available in stock, but we may be able to backorder the strap of your choice.
Come visit us at Geneva Watch Repair to select the watch strap of your choice.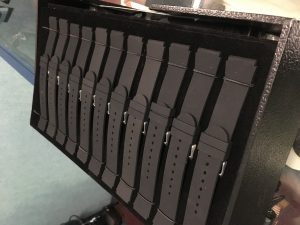 Our metal bands have many different styles and usually includes from the following metal types: stainless steel, two-tone stainless steel, gold-plated or gold-filled.
Leather straps come in calf, lizard, crocodile, and alligator. Styles, textures, and price will differ for each unique strap.