Regulation
&

Timing for your Watch

+/- Accuracy for your Timepiece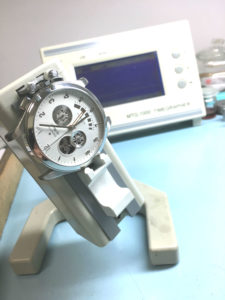 All mechanical watches when arriving at our service center, are subject to a timing test before and after the watch is serviced. With the basic tests, our watch professionals will be able to tell whether your watch is too fast, too slow, running erratically, or just not running at all.
The finishing touches for the service, repair, and restoration of your mechanical movement includes regulating the accuracy of the timing mechanism and adjusting the balance staff. This delicate procedure requires that our watchmakers make the slightest adjustments and tweaks to the hairspring and regulator in order to get your timepiece running to its detailed specifications. Your mechanical movement will undergo six different positions to see whether the balance is off-center at any one of the positions. Our professionals will also check the mean distribution and standard deviations to ensure that all readings are under the proper specifications.
Finally, if you decided to have your watch overhauled and serviced with us with a complete servicing package, your timepiece is backed by our 18 month warranty to ensure that your timing is accurate and flawless to what the watch is specified for. If your wristwatch or pocketwatch is too slow, too fast, or not running, then you have the option of having the watch shipped back to our watch repair shop as a warranty repair.